How to be a stylish "Summer Pear" at 48?
by Kerryn
(Adelaide SA)
Summer beckons and I enjoy the sun. Like many pears, my upper body can cope with a summery fashion approach - strappy tops, halter necks etc. However summer does bring the paradox of not being able to wear cool and stylish clothing on the lower half. Too often, I end up feeling frumpy, wearing flowing skirts 'loose cargo style' pants and flat summer sandals.
Any suggestions?

Jane's answer... Kerryn, thank you for your question. Many of my clients have a 'pear' or triangle horizontal body shape, so I suspect many readers will be interested in the answer to this question!

As a woman with a triangle horizontal shape your main style aim is to balance your upper body to your lower body to create a more hourglass-like shape. Many (although not all) women with this body shape also have a well-defined waist. If you have a nice waist, make sure you don't hide it!

The trouble with wearing strappy summer tops and larger bottoms, such as flowing skirts and loose, cargo-style pants, is that this approach often emphasizes your pear shape, rather than making your shoulders look wider and your hips narrower. The bigger the difference between your hip width and your shoulder width, the bigger the effect will be.
The way to reverse the effect is to choose tops that appear to broaden your shoulders and bottoms that make your hips appear narrower. This can be achieved with a combination of the correct clothing silhouette, lengths of garments, colours, patterns and design lines within the outfit.
Suggestions for Dresses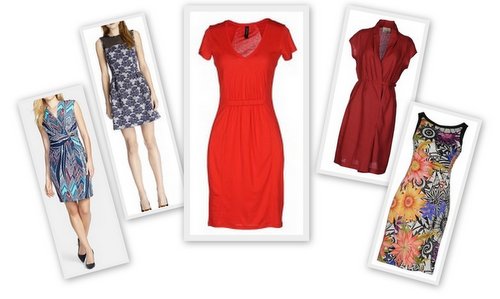 Images courtesy (from left to right):
Nordstrom - Ellen Tracy
Warehouse
Yoox - Marc Cain
Yoox - Niu'
Yoox - Marc Cain
All the dresses above illustrate good dress shapes for a pear body shape. Do you see how they all create the appearance of balance between the shoulder and hip width?
Do make sure you're wearing underwear that creates smooth lines, especially over your hips.
If you don't like your arms stick with longer-short, half or three-quarter sleeved dresses. Or find light-weight, short, half or three-quarter sleeved cardigans or jackets to cover your arms. This is a flattering look for all women with pear shaped bodies.
If you are more than a dress size different in size between your top half and bottom half you'll find you need fewer alterations made if you buy tops and bottoms, rather than dresses.
Best Skirts for the Pear Body Type
The best skirt shapes for the triangle body shape are: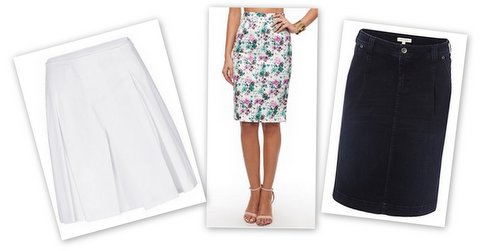 Images courtesy (from left to right):
Style Bop - Jil Sander
The Iconic
John Lewis - White Stuff
Subtle A-line Skirt -- avoid obvious A-line shapes, which will emphasize your pear shape. Instead look for subtle A-line silhouettes. An A-line skirt in a soft, draping fabric may also fall in a soft A-line.


A slightly tapered skirt should also work for your shape, especially with the correct top. Look for skirts that aren't too figure hugging


A straight skirt is also a great choice.


After the overall shape, or silhouette, of the skirt look at the design details within the skirt and make sure they aren't calling attention to your hips. Things to be particularly wary of include:


A patterned or colored border -- these may make your bottom half appear wider and call attention to your hips


Overall patterns -- pay attention to the size of the pattern (make sure it's suitable for your frame) and where on your body the eye is drawn, for example, to lighter and brighter areas. A subtle, all-over pattern will be best. To draw attention to the top of your body choose a lighter, brighter color from within the pattern for your top. So many women make the mistake of choosing black, or a darker color for their top, which then draws attention to their bottom half and their hips.


Pockets over the hips or thighs, especially pockets in a contrasting color to the skirt, or with design details that call attention to your hips or thighs


That's not to say that you can't wear skirts with these particular details. However, you may need to use some styling 'tricks' to make them work and still flatter you.


Suggestions for Shorts and Summer Pants





Images courtesy (from left to right):
Next Directory - Chino Shorts
Ann Taylor - Stretch Cotton Cropped Pants
Style Bop - Emilio Pucci


If you like your legs shorts will be an option for you. Straight styles in lengths just above your knee with minimal pocket detailing will work best (and if they have a cuff, a non-contrasting color will be best), like the ones shown above. If there are pockets and they're likely to gape, sew them up (and for a smoother line, remove the actual pocket beneath, if the style allows).

Cropped straight or capri styles also make a nice option for summer. On most women the length of the pant will need to be altered, so that it comes between your ankle and the fullest part of your calf. Ankle lenth styles, or just above the ankle are best for those with long legs in comparison to the torso. Also avoid the wide or flared-leg cropped styles since these will make you look shorter and wider and bring attention to your hips. And, unless you have relatively long legs, cropped pants will look better worn with at least a small heel.

Full length tapered or harem styles (not the style with a low crotch) in lighter summer fabrics will also work. Take care that they don't pull across your hips and thighs. And also check that any pattern or design details don't draw attention in that area.


Ideas for Tops


Layering of tops works particularly well for women with this body shape. However, on a hot summer day, or if you feel the heat, you might not wish to create that look all the time.



Images courtesy (from left to right):
Ann Taylor - Woven Yolk Cowl Neck Top
Ann Taylor - Skinny Stripe Top
Nordstrom - Caslon Sheered V-Neck Tee
Nordstrom -Lucky Brand Mix Print Top
Ann Taylor -- Collared Keyhole Shell


Choose tops that are lighter and brighter, ideally with at least a small sleeve, or sleeveless. Avoid very narrow straps unless you are going to wear a jacket, cardigan or shrug over the top. Take care not to hide the shaping at your waist. The batwing and kimono styles will be most challenging for your shape since they tend to hide any waist shaping.

Tops with horizontal design details across your shoulders will also work to create the illusion of broader shoulders.

Take care with where you end your tops, in particular when the top is in a contrasting color to the bottoms. Your best top lengths will be waist to high-hip length. For longer tops you may find they work best with a bit of a heel. And take care to avoid a contrasting line across the widest part of your hips and/or thighs.

Halter necks will make shoulders look wider, but take care with the length of the garment. For tops in a contrasting color to the bottoms a waist to high hip length will be best. In a dress, the skirt part of the dress should be long, straight, or fall in a subtle A-line -- a short A-line halter will make your hips appear wider.

Stylish Summer Pear Outfit Ideas
by Jane
(Style Makeover HQ)
Here are some starting outfit ideas using the tops and bottoms identified above: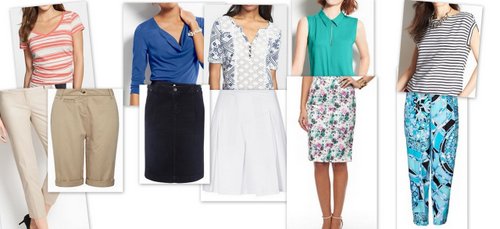 Stylish Summer Pear Outfit Ideas
Do finish off your outfits with nice sandals (it is possible to find comfortable
and
stylish styles), a contemporary necklace and other accessories. The difference between a boring and a stylish outfit is often in the accessorizing detail!
Finally, here's a page of outfit ideas from one of my favorite Australian online stores:
Birdsnest.com.au
. Please note the closest body shape category for the triangle body type on this site is 'big hips'. So some of these outfits may not work for a woman of average weight with a nicely defined waist (for example, if the outfit hides the whole body, rather than showing that you have a waist). However, I think this page should still be able to provide you inspiration for outfit creations.
If you would like help with identifying your proportions, dressing to flatter your shape, or creating or reviewing outfits I'd love to help you either in person, or remotely. See
my services for more details
or
contact me with your request
.
Related Pages
More answers to readers questions about dressing a triangle body type and a few pictures in a real client case study: