What to Wear to Evening Wedding?
I'm going to my step niece's wedding (her grandmother married my father). It's end of June at 5:30pm reception at Ritz Carlton Hotel in Wash, DC. Dress is semi-formal. I hate to get dressed up and cannot wear heels. I'm a jeans and sweater/t shirt and sneakers girl.

I'm 64 yrs old but look 10 years younger I wear size 6. I have a lacy cotton sweater with long sleeves and long flowing pants (pajama style) it's a white/black print. Is this ok?

Jane's answer...

Translating the Dress Code
You will need to consider the following facts...
The dress code is semi-formal.


The venue is a luxury hotel


The time of year is summer


Its an evening wedding
Semi-formal for an evening event typically means cocktail-style attire -- a bit of dressing up, but not too formal. Typically this means a dress, length around knee length, in a finer evening-style fabric ( such as silk, or crepe, or lace), or embellished with sequins or lace, or beads.
Go for softly tailored, or a mix of tailored and soft. It looks as if the weather in Washington DC is likely to be hot. However, since the function is in a hotel it will be practical to take a jacket, shrug or wrap as a top layer.
Here are some examples of suitable looks...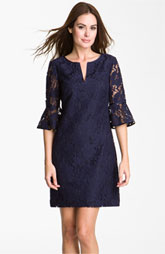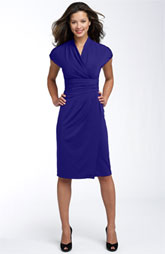 Adrianna Papell Lace Dress & Suzi Chin for Maggy Boutique Ruched Faux Wrap
Images Courtesy of Nordstrom

Avoid wearing all white -- this is traditionally reserved for the bride. Black is acceptable for an evening event, although personally I feel it's a bit somber for a wedding.
As you decide what is appropriate for you and the event take into account the bride and groom. If they (or their parents) tend to be very formal then this will usually be reflected in the wedding. Similarly if they are more laid back, expect that to be reflected in the wedding. Even though your style sounds more on the laid back, informal-side, it's good manners for you to dress in a style that is respectful of the bride and groom.
Your Outfit
When choosing your outfit the usual considerations should apply. That is, choose an outfit that...
Flatters your body type and proportions


Flatters your coloring


Reflects your personality


Is appropriate for the event
From your description of your personality you sound as if your style is predominantly natural. That is: you prefer comfortable, functional, no fuss clothes and possibly wear very few accessories? However, that doesn't mean your look has to be dowdy or boring.
You don't give me any idea of your body proportions, or coloring, other than that you take a standard dress size.
Your pants may be suitable, if they are in a flowing evening-style fabric. Evening fabrics are typically finer quality, such as a fine crepe. They can be fluid fabrics or stiffer fabrics (though stiffer is associated with more formality). Sheen and shine are also associated with evening -- you may be more comfortable in matt fabrics adding a touch of sheen in a detail, such as a necklace, or a neckline embellishment, or an evening bag or shrug.
Pajama pants are usually associated with draw-string waists, if this is the case with your pants, make sure the waistline and drawstring are covered by your top.
Is it the pants that are a print? If so, if you are short or medium height make sure your top is light and/or that you have a high placed focal point, such as a necklace, or neckline embellishment. Also, since your pants are full and flowing make sure your top is semi-fitted to balance the fullness of your bottoms.
Without seeing a photo of your top I'd say it sounds too informal (and maybe too warm?). I'd suggesting seeing if you have another top in your wardrobe that works with your pants. Or do you have a nice softly tailored jacket or shrug that you could wear with a simple shell-style white or black top?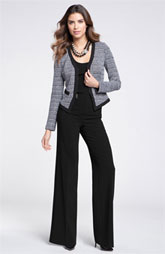 St. John Outfit
Image Courtesy of Nordstrom
This picture shows an example of a semi-formal pant outfit that would work.
If you do buy a new top or outfit think of other semi-formal or smart casual events that you may have coming up and choose something suitable for those occasions too to make sure you get the best value for your outfit (think cost per wear).
Shoes and Finishing Touches
Don't forget to finish your outfit with some nice shoes, evening bag and jewelry.
Even though you can't wear heels you should still be able to find some nice low or flat sandals or ballet shoes that are suitable for evening wear. If your shoes expose your heels remember to check that your heels are in good repair -- cracked and dry heels are not a good look with sandals.
Here are a few examples of sandals and shoes that are suitable for evening and might work for you. If you do wear a dress and need to wear flats rather than low heels a shoe color that's close to your skin tone will make your legs look longer and slimmer.



Lifestride Felicia Sandal & Audrey Brooke Bella Sandal
Images Courtesy of DSW






BOC Oriana Ballet Flat & Kelly & Katie Whitney Ballet
& Dr Scholls Habit Leopard
Images Courtesy of DSW

Related Articles