Where is the top of your skirt supposed to sit?
Where is the top of your skirt supposed to sit? At the the narrowest part, at the belly button, or at the top of the hip bones?

More specifically I have a high-waisted, hour glass shape.

Jane's answer...Where the top of a skirt is supposed to sit depends mainly on the style of the skirt. The majority of skirts have a waist band that is designed to sit on the waist (see this answer to a reader's question if you need more information about where your waist is located and high and low waists).

However, when high waists are in fashion, a skirt might have a high waist. For instance, with the re-emergence of cropped tops, there are more high-waisted styles around at the moment.

Similarly, when low-slung styles are in fashion, the top of the skirt may be designed to sit on the hips.

If a skirt has no waistband, or has a soft-banded style, there may be a bit more flexibility to wear it where it's most comfortable on your body.

Examples of skirts designed to sit at different places: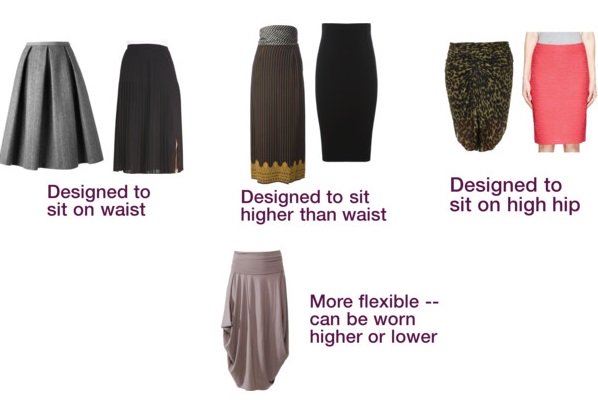 When you cover the top of the skirt with whatever top you're wearing it's not so important where the top of the skirt comes on you, as long as it looks as if it's sitting correctly on your body.
It sounds as if your
vertical proportion
might be 'long legs short torso'. In which case, even though you have an hourglass horizontal proportion, tucking your top in will only work under specific cirmcumstances. You'll look best when you create the illusion of a longer body. For example, by wearing a skirt that sits lower than your waist, and having your tucked-in top in a similar color value to your skirt. Or if you wear an open jacket over a tucked-in top and skirt, to create lengthening horizontal lines.
Related answers
This question fits nicely with these questions, that I've already answered, about skirts: