Pear shape body best casual dress style?
by Sara
(Ethiopia)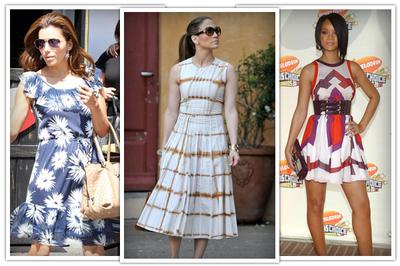 What dress style will look beautiful on my short pear shaped body?
I am short and have a pear shape body and like flat shoes to wear.

Please tell me what dress style will be beautiful on me.

Jane's answer... Sara, thank you for your question and for including pictures. I'm assuming these are the styles of dresses you like? Or at least the styles that you think might work for you?

You've given me information about some of your proportions (great) and I'm guessing those are the challenging aspects for you when trying to find dress styles that suit your proportions and preferences?

I'll assume that you have a balanced vertical proportion (that is your legs and torso are about the same length), a reasonably well-defined waist, average or small bust, average neck length, and slightly tapered shoulders.


Your style aims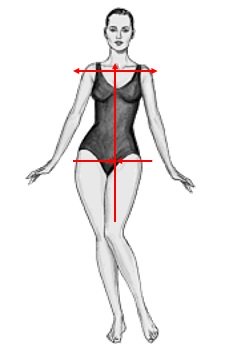 Your dressing aims are to:
Make your shoulders appear wider


Minimize the width of your hips


Show waist definition


Attract attention to your face
Your best dress styles
Your best dress silhouettes are:
Hourglass shapes (also called fit-and-flare), like the ones in the photos you supplied (however, see my verdict on these dresses below)


Shaped, that is dresses with slight waist shaping and a straight or subtle A-line skirt
Your best dresses will also:
Have at least a small sleeve, or a slightly extended shoulder line, but the shoulder seam should not be overly dropped. This will appear to balance your hips to your shoulders. If you are no more than 1 dress size different between you top and your bottom halves a sleeveless dress will probably work for comfort on the hottest days.


Be around knee length. The more lower leg you show the taller you will appear. However don't go too short - the closer the horizontal line formed by the hem is to your hips the more it will emphasize the width of your hips


Have no border at the hem. Borders act as horizontal lines which will emphasize your hips


Have no horizontal style detailing across your hips. For example, no colour change across your hips, and no horizontal pattern


If it has a pattern the scale should be small or medium, not large. Take into account both the pattern and the repeat when assessing scale. Large patterns will emphasize your petite frame (short height)


Have a skirt that falls in a sutble A-line - even if the dresses' skirt is a full A-line when it's held out if it's in a soft, drapey fabric it will fall either straight or as a subtle A-line. The wider your hem appears the shorter and wider you will appear.


Keep in mind - the longer your dress the shorter you will appear.
Wearing
skin-toned sandals or shoes
will help to make your legs appear longer. At least a small heel or wedge or platform would also help.
Assessment of the dress photos you supplied
Even though the silhouettes of all the dress photos you supplied are almost right, none of those dresses will be particularly flattering on your pear body shape and petite frame. Below I've listed what works and what doesn't: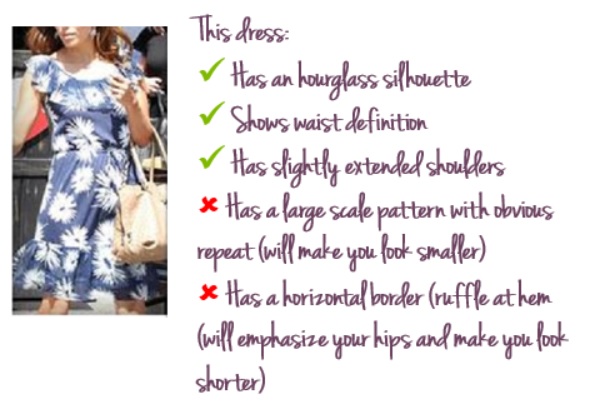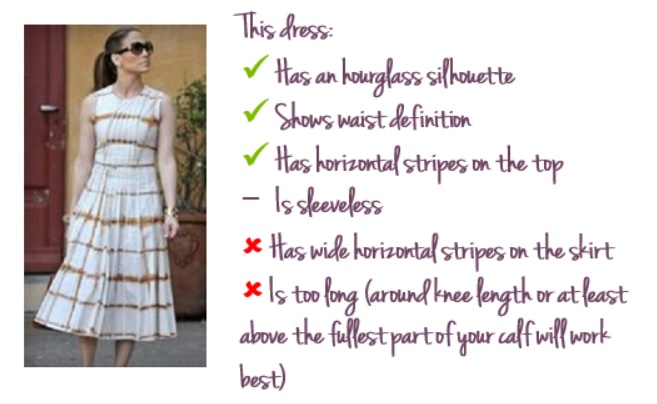 The overall shape of the dress above has a distinct A-line. Although the skirt silhouette is a subtle A-line, when it's combined with the horizontal stripes, the length and the lack of sleeves the overall effect will be to emphasize, rather than balance, a pear shaped body.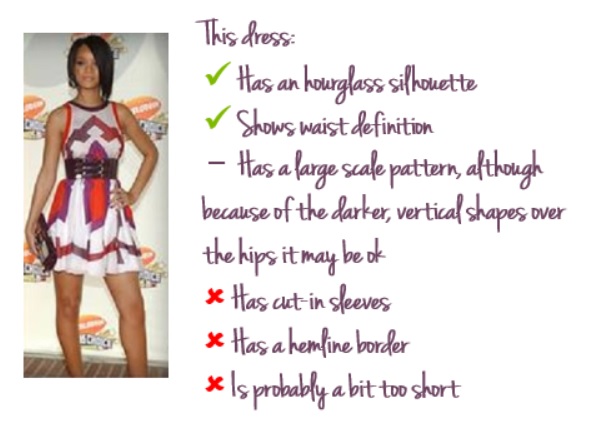 Examples of good dress styles for you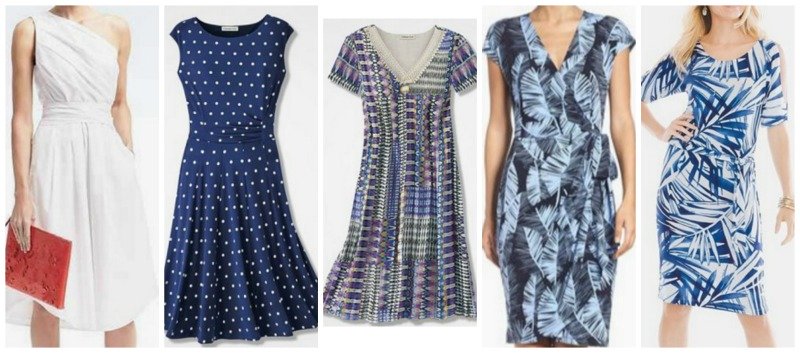 Images courtesy (left to right):

Banana Republic,
Coldwater Creek,
Coldwater Creek,
Nordstrom,
Chicos

The 2 leaf-print dresses on the right may seem to be a print that's too large. However, because the print is made up of smaller elements and the patterns are complex and diagonal rather than horizontal they should still work for your petite frame.
Of course the colors of these dresses may not be right for you. And they may not suit your personal style preferences. However, these shapes and patterns will all be good for your shape and frame.
Related articles...