What kind of casual clothing should I be buying to suit my petite frame?
by Tammy
(So.Portland,Maine U.S.A)
I am 5ft 150 lbs, petite, and need a new wardrobe badly. Please tell me what should I buy for casual clothing that will look best on me? My measurements are 37-33-39 bust, waist, hips. Any help will be appreciated thank you.

Jane's answer…Hi Tammy, thank you for your question. You've left out a lot of details, but I'll try to give you some ideas!

I suspect your biggest challenge is finding clothing and creating outfits that suit your smaller frame, and don't make you look and feel heavier than you are. As you have correctly identified, at 5ft tall you are classified as petite.

Your measurements suggest that you may have a rectangle horizontal shape. That is, your shoulders and your hips are about the same width and your waist is not well defined. However, it is not always possible to tell your horizontal shape from measurements alone – it will depend upon how your weight is distributed.

I'll assume your vertical shape is Balanced Body. Your vertical shape will determine the lengths of tops and bottoms that suit you best.

Another 2 important factors in suggesting what casual clothing will look best on you is your coloring and your personality. You also don't mention your age.

Styling recommendations for a petite rectangle body shape
These styling strategies work for most petite rectangle body proportions (though be aware that some details might change dependent on your other body proportions, such as if you have saddle-bag thighs, or a large bra cup size).
See outfits illustrating some of these concepts below
:
Use columns of color to look taller and slimmer. For example, tops and bottoms in similar color tones and values (color value is how light or dark a color is)


Alternatively, flow color up the inside or outside of your body. For example, medium-dark pants, medium-dark top and lighter jacket or cardigan


With your shorter frame you have a smaller canvas to work with so don't overwhelm your frame with large design details, such as large patterns, or large flounces, or too many color changes


Avoid wearing bottoms that are lighter or brighter than your tops, since this will make you appear shorter and heavier


Avoid patterns and design details that create horizontal lines across your torso. For example, wide horizontal stripes and other horizontal color changes


Do add strong vertical lines in colors, patterns and design details such as patterns and stitching


Choose shoes and boots that tone with your hemline, are nude, or are a similar tone to your hair. Your aim is to keep a flow of color traveling up your body, or to balance between your feet and your hair. Pointed toes and low vamps (the opening of the shoe) will also make your legs look longer


With patterned skirts or pants choose one of the lighter or brighter colors for your top color to bring attention back to your face


If you can, wear at least a small or medium heel


As I was looking for examples of clothing to illustrate some of these points I am reminded that crop pants are still very much 'in vogue'. Do take care if you want to try this trend. From 2 perspectives:
If the crop length comes out as full length on you make sure it looks as if it was supposed to be a full length pant, rather than a crop that is too long on you!


Ensure that the length of the crop is between your mid-calf and your ankle, or make it shorter – between your full calf and the bottom of your knee. A crop will look best on you when worn with a medium to high heel.


Also, slim or tapered crop pants will work better than wide-legged styles.
Casual outfit examples for your petite rectangle body proportion
The outfits below can be dressed up or down by changing footwear, accessories and outer layers. They are not the only styling techniques you can use, but I hope they give you some great examples that you can adapt to suit your coloring and personality preferences?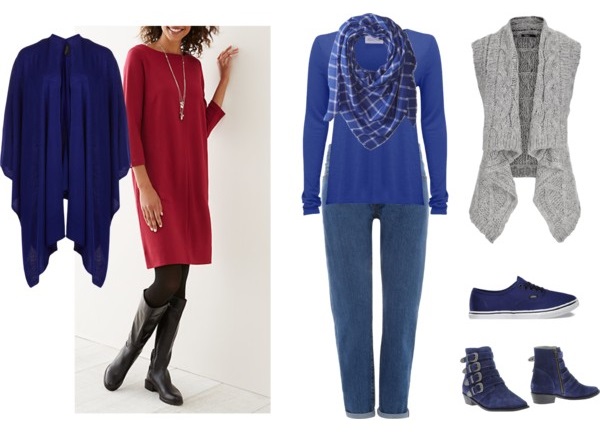 The 2 outfits above show examples of flowing color up the body and creating a column of color. When the dark navy long-line cardigan is worn with the shift dress it creates a flow of color up the outside of the body. Without the cardigan, if the opaque tights and boots were in say a charcoal grey, closer in color value to the red dress, the outfit would become a column of color. Notice how the long-line necklace creates a strong vertical design element and a high focal point.
The jeans, long-sleeved tee-shirt and scarf on the right above create a column of color, with the scarf adding both interest to the outfit and a strong vertical. Adding the grey vest (or a cardigan or jacket) makes the look even more slimming by adding even stronger vertical lines over the torso, while the darker color underneath is slimming. The sneakers or boots continue the column of color.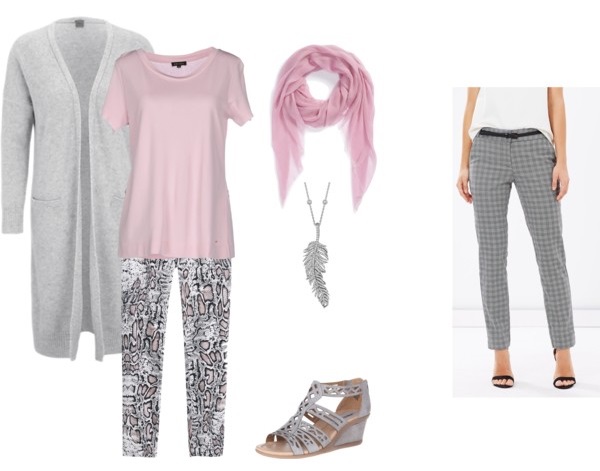 Do you see how the lighter, brighter pink of the tee-shirt keeps your attention at the top of the outfit? Keeping attention high on your body will make you look taller and slimmer. Other colors that would work with these pants are white, and perhaps a light-silvery grey.
The grey sandal tones with the greys on the pants and adds high with the wedge. The outfit is made more interesting with a long-line necklace (though don't go any lower than just under your bust).
The accessory details also adds a strong vertical to your torso. And notice how the silver-grey keeps the grey of the pants continuing up the outfit. If more warmth is needed a long-line grey, pink, or white cardigan will add an even stronger vertical. And a scarf add both textural interest and another strong vertical, if the ends are left loose.
When you wear a longer, looser top, such as the pink tee-shirt, it's a good idea to master the partial tuck. One version of this is shown on the left. Do you see how it adds some structure to the top and the outfit as a whole? Another version of this tucks a smaller portion of the top, just catching the hem into the center of the pants. Or you can do the tuck to one side of the waist band, whichever gives the nicest line.
Related articles